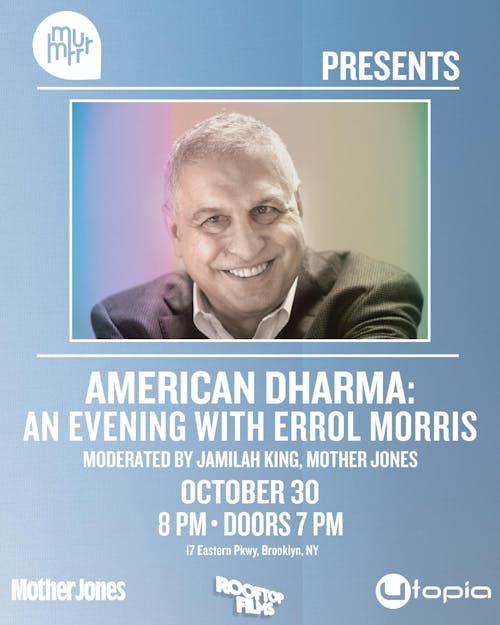 Presented by murmrr & Utopia Films
American Dharma: An Evening with Errol Morris
$15.00
Tickets At The Door
Academy Award winner Errol Morris at Murmrr Ballroom.
Academy Award winner Errol Morris reflects on his filmography and upcoming release American Dharma with Jamilah King of Mother Jones.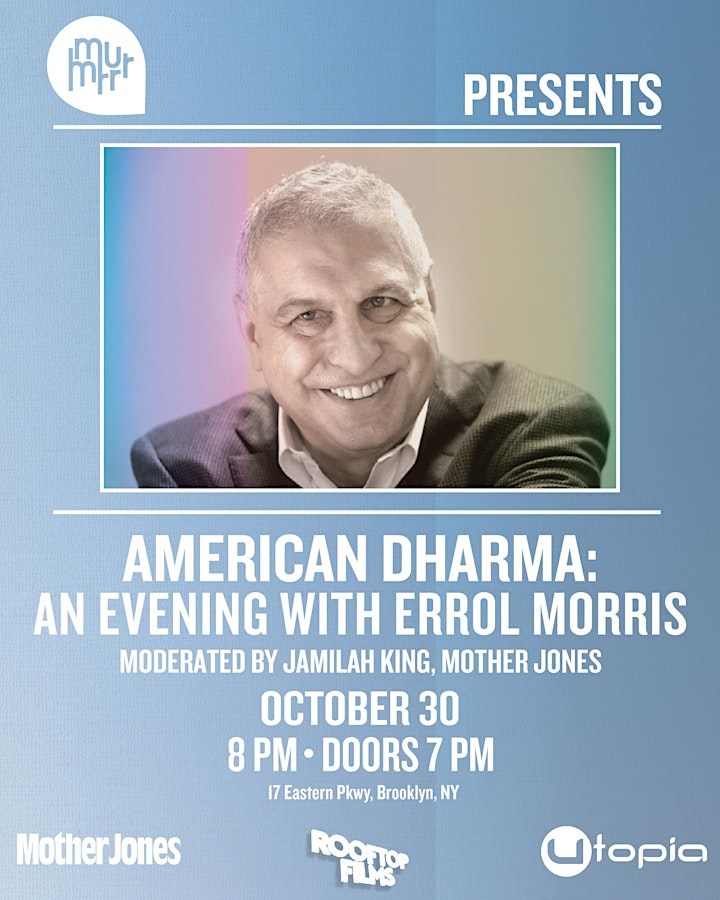 Errol Morris (Film Director and Author)
Morris's films have won many awards, including an Oscar for The Fog of War, the Grand Jury Prize at the Sundance Film Festival for A Brief History of Time, the Silver Bear at the Berlin International Film Festival for Standard Operating Procedure, and the Edgar from the Mystery Writers of America for The Thin Blue Line. His films have been honored by the National Society of Film Critics and the National Board of Review. Morris's work is in the permanent collection of the Museum of Modern Art. Roger Ebert called his first film, Gates of Heaven (1978), one of the ten best films of all time.
Morris is the author of two New York Times best sellers, Believing is Seeing and A Wilderness of Error, and is a regular contributor to The New York Times opinion pages and Op-Docs series.
Morris has directed over 1000 television commercials, including campaigns for Apple, Levi's, Nike, Target, Citibank, and Miller High Life. He has directed short films for the 2002 and 2007 Academy Awards, ESPN, and many charitable and political organizations. In 2001, Morris won an Emmy for "Photobooth," a commercial for PBS.
Morris has received fellowships from the National Endowment for the Arts, a Guggenheim Fellowship, and a MacArthur Fellowship. In 2007, he was inducted into the American Academy of Arts and Sciences. He is a graduate of the University of Wisconsin-Madison and was a graduate student at Princeton University and the University of California-Berkeley. He has received the Columbia Journalism Award and honorary degrees from the University of Wisconsin-Madison, Brandeis University, and Middlebury College.
Morris lives in Cambridge, Massachusetts with his wife, Julia Sheehan, an art historian, and their French Bulldog, Ivan.
FilmographyWormwood (2017)The B-Side: Elsa Dorfman's Portrait Photography (2016)The Unknown Known (2013)Tabloid (2010)Standard Operating Procedure (2008)The Fog of War (2003)Mr. Death: The Rise and Fall of Fred A. Leuchter, Jr. (1999)Fast, Cheap & Out of Control (1997)A Brief History of Time (1992)The Thin Blue Line (1988)Vernon, Florida (1981)Gates of Heaven (1978)
BooksThe Ashtray (Or the Man Who Denied Reality) (forthcoming)A Wilderness of Error: The Trials of Jeffrey MacDonald (2012)Believing is Seeing: Observations on the Mysteries of Photography (2011)Standard Operating Procedure (with Philip Gourevitch) (2008)
TelevisionFirst Person (2000-2002)
Jamilah King is a race and justice reporter at Mother Jones, and the host of the weekly show, the Mother Jones Podcast (a new episode out every Wednesday!)
VENUE ADDRESS:
MURMRR THEATRE
17 EASTERN PKWY
BROOKLYN, NY, 11238
VENUE INFORMATION:
Union Temple, one of Brooklyn's leading Reform Jewish synagogues, has been dedicated to enriching the cultural life of Brooklyn since it opened its doors in 1929. Union Temple is proud to host Murmrr's events as a continuation of this long-standing tradition. Proceeds from these events help support Union Temple's diverse and inclusive religious community.