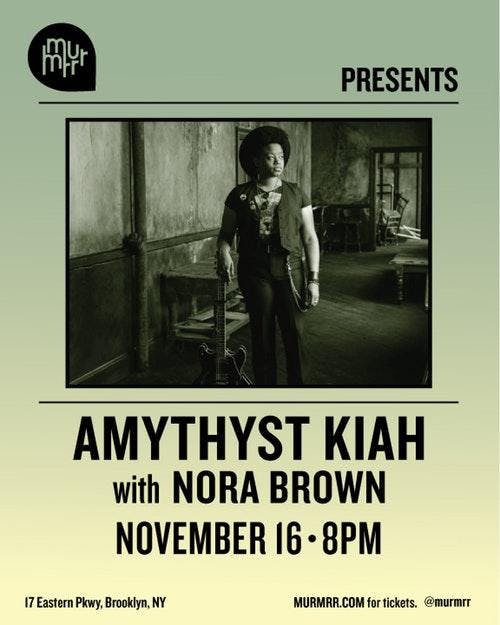 Amythyst Kiah w/ Nora Brown @ Murmrr Ballroom!
AMYTHYST KIAH
"Amythyst Kiah is one of roots music's most exciting emerging talents, blending a deep knowledge of old time music with sensibilities spanning classic country to contemporary R&B." —Rolling Stone
"Her razor-sharp guitar picking alone guarantees her a place among blues masters, but it's her deep-hued voice that can change on a dime from brushed steel to melted toffee that commands attention." —The New York Times
Read The New York Times review of Amythyst's Globalfest performance
Born in Chattanooga and now based in Johnson City, Amythyst Kiah's commanding stage presence is matched by her raw and powerful vocals—a deeply moving, hypnotic sound that stirs echoes of a distant and restless past.
Accompanied interchangeably with banjo, acoustic guitar, or a full band, her eclectic influences span decades, finding inspiration in old time music, alternative rock, folk, country, and blues.
Our Native Daughters, her recent collaboration with Rhiannon Giddens, Leyla McCalla, and Allison Russell (Birds of Chicago), has delivered a full-length album produced by Rhiannon Giddens and Dirk Powell, Songs of Our Native Daughters (out now on Smithsonian Folkways). NPR described the opening track, Black Myself, written by Amythyst, as "the simmering defiance of self-respect in the face of racism." The supergroup will hit the road in July with a series of special dates that include performances at Washington D.C.'s Smithsonian Museum of African American History & Culture as well as Newport Folk Festival. Most recently, the group has been nominated for Duo/Group of the Year at the 2019 Americana Honors & Awards.
Amythyst regularly tours the United Kingdom and has performed at Celtic Connections, Southern Fried Festival, Cambridge Folk Festival, the Edinburgh Jazz & Blues Festival, and SummerTyne Americana Festival. She is a crowd favorite at Bristol Rhythm & Roots Reunion in the U.S. and has shined at the John F. Kennedy Center for Performing Arts, Smithsonian Folk Life Festival, Winnipeg Folk Festival, and opening for artists such as the Indigo Girls, Rhiannon Giddens, Dom Flemons, Old Crow Medicine Show, First Aid Kit, Darrell Scott, and Tim O'Brien.
Provocative and fierce, Amythyst's ability to cross boundaries is groundbreaking and simply unforgettable.
NORA BROWN
Little Nora Brown plays banjo, ukulele, and accordion - She started learning ukulele at age 6 from the late Shlomo Pestcoe. With a focus on old-time music, he laid a foundation of love of music and the community it creates. He instilled in her the lesson that music is meant to be shared. Now 13 years old, Nora plays and sings solo shows and plays with many of her old time mentors including fiddler Stephanie Coleman, under the band name Little Leatherwood and harmonica master Trip Henderson under the band name Tin + Bone.
Today Nora is being mentored by many of her favorite old time musicians including Alice Gerrard, John Cohen, Clifton Hicks, KC Groves, Courtney Hartman, Anna Roberts-Gevalt, Mac Traynham, John Haywood, Ali Dineen, and Brett Ratliff. She won 1st place in youth banjo in 2017 and 2018 at the Clifftop Appalachian String Band Music Festival in West Virginia and 3rd place in 2018 in the overall banjo competition. She also took first place in the 2018 flatfoot contest at Elk Creek. In 2018 she won a scholarship to attend Cowan Creek Appalachian Music School in Whitewburg, KY. In both 2017 and 2018 she's performed in many old time music festivals including: Oldtone Roots Music Festival in Hillsdale, NY, Winter and Summer Hoots in Ashokan, NY, Washington Square Park Folk Festival NYC, Brooklyn Americana Roots Music Festival and the Brooklyn Folk Festival. She has also been a guest on the Floyd Radio Show in Floyd VA.
She has visited and been mentored by master banjo player and former cold miner, Lee Sexton and scholar and master banjo player George Gibson. She has a heavy focus and interest in eastern KY overhand picking and unaccompanied ballads.
She has been published in Sing Out! "Murder Ballad Monday" and most recently The Bluegrass Situation: Roots Culture Redifined "10 Young Banjo Players You Aren't Paying Enough Attention To".