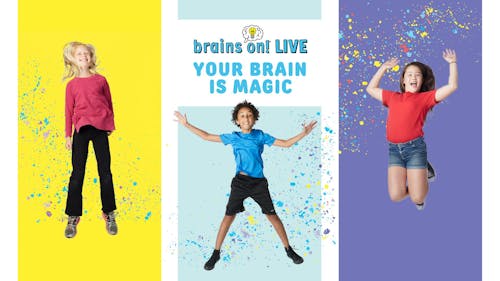 Get ready for a science lesson that feels like a party. Don't miss the popular Brains On! podcast in a live Brooklyn performance at Murmrr.
Brains On, the wildly popular podcast for kids, is hitting the road with an all new science-themed show that takes the audience on an adventure through our brains. But don't worry, this won't be anything like a lecture. Hosts Molly Bloom, Marc Sanchez and Sanden Totten will be there with magic tricks, dance moves, out-of-body experiences, mystery sounds, and even a game show! All the while, kids (and their parents) learn how our brains take a handful of signals from the eyes and ears and turn them into a vibrant picture of the world. Get ready for a science lesson that feels like a party.
VENUE ADDRESS:
MURMRR THEATRE
17 EASTERN PKWY
BROOKLYN, NY, 11238
VENUE INFORMATION:
Union Temple, one of Brooklyn's leading Reform Jewish synagogues, has been dedicated to enriching the cultural life of Brooklyn since it opened its doors in 1929. Union Temple is proud to host Murmrr's events as a continuation of this long-standing tradition. Proceeds from these events help support Union Temple's diverse and inclusive religious community.