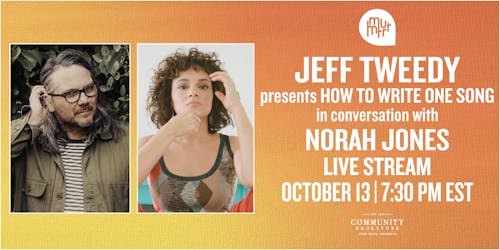 Presented by murmrr & Community Bookstore
Jeff Tweedy
Norah Jones
$30.00
Sales Ended
On DICE
Murmrr Lit is proud to present Jeff Tweedy for the release of his new book, How to Write One Song, in conversation with Norah Jones.
Murmrr Lit is proud to present Jeff Tweedy for the release of his new book, How to Write One Song, in conversation with Norah Jones. This program will take place on Zoom, and Jeff will play 1-2 songs.
There are few creative acts more mysterious and magical than writing a song. But what if the goal wasn't so mysterious and was actually achievable for anyone who wants to experience more magic and creativity in their life? That's something that anyone will be inspired to do after reading Jeff Tweedy's How to Write One Song.
Why one song? Because the difference between one song and many songs isn't a cute semantic trick—it's an important distinction that can simplify a notoriously confusing art form. The idea of becoming a capital-S songwriter can seem daunting, but approached as a focused, self-contained event, the mystery and fear subsides, and songwriting becomes an exciting pursuit.
And then there is the energizing, nourishing creativity that can open up. How to Write One Song brings readers into the intimate process of writing one song—lyrics, music, and putting it all together—and accesses the deep sense of wonder that remains at the heart of this curious, yet incredibly fulfilling, artistic act. But it's equally about the importance of making creativity part of your life every day, and of experiencing the hope, inspiration, and joy available to anyone who's willing to get started.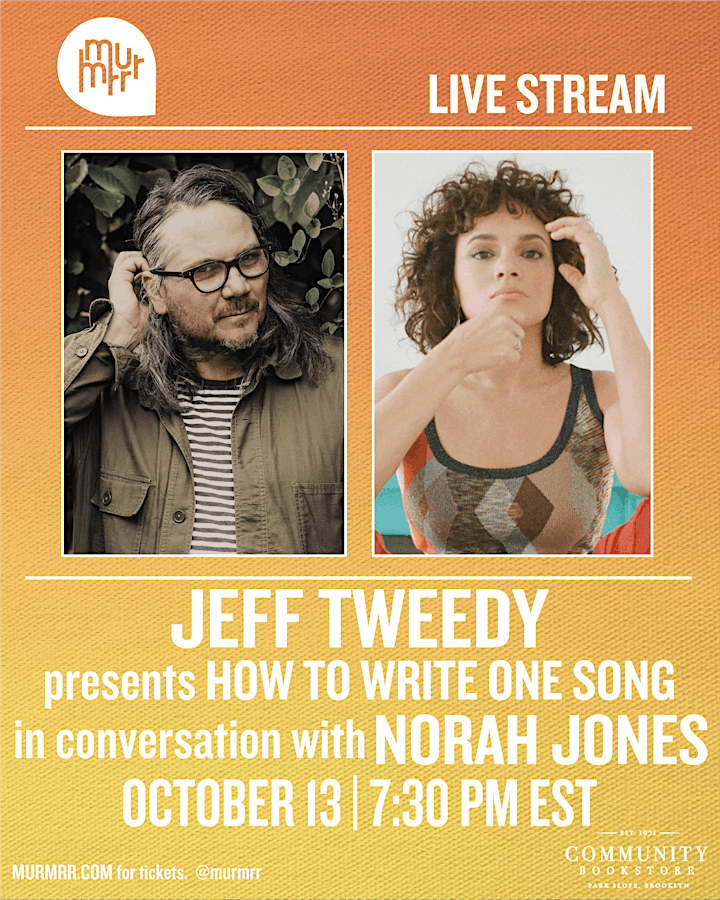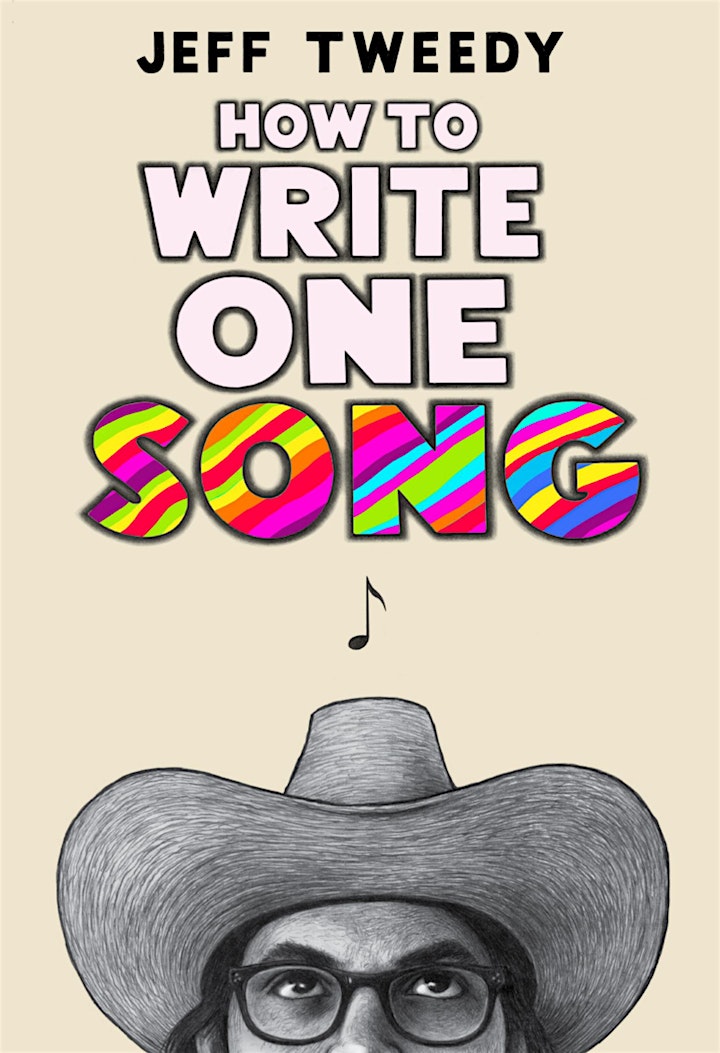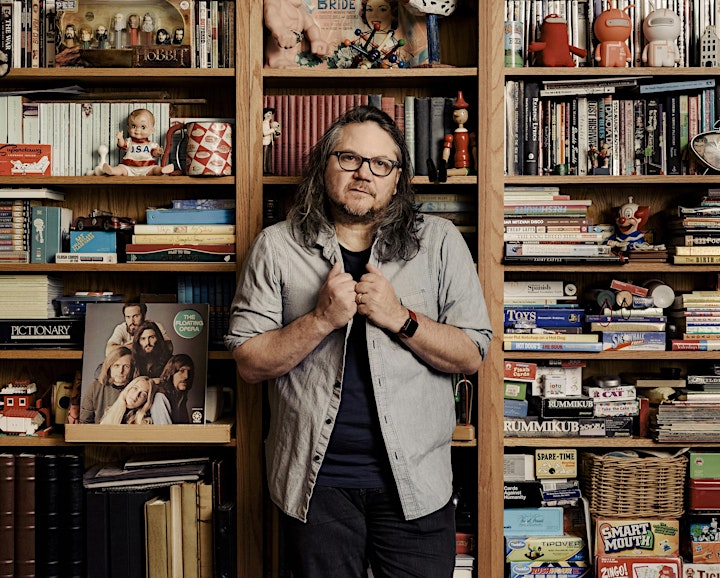 BIO
As the founding member and leader of the American rock band Wilco, and before that the cofounder of the alt-country band Uncle Tupelo, Jeff Tweedy is one of contemporary American music's most accomplished songwriters, musicians, and performers. Since starting Wilco in 1994, Jeff has written original songs for eleven Wilco albums as well as collaborations with Billy Bragg, Mavis Staples, and many others. He lives in Chicago with his family.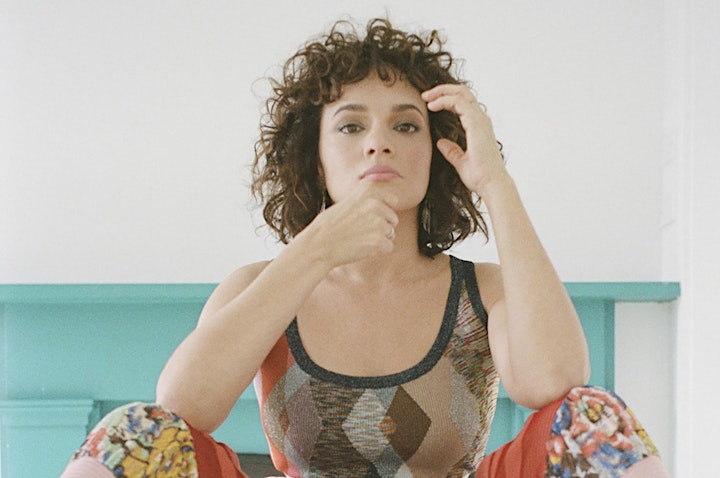 BIO
Norah Jones first emerged on the world stage with the February 2002 release of Come Away With Me, her self-described "moody little record" that introduced a singular new voice and grew into a global phenomenon, sweeping the 2003 GRAMMY Awards. Since then, Norah has become a nine-time GRAMMY-winner and sold 50 million albums. Her songs have been streamed five billion times worldwide. She has released a series of critically acclaimed solo albums—Feels Like Home (2004), Not Too Late (2007), The Fall (2009), Little Broken Hearts (2012), Day Breaks (2016), and Pick Me Up Off The Floor (2020)—as well as albums with her collective bands The Little Willies, El Madmo, and Puss N Boots featuring Sasha Dobson and Catherine Popper who released their second LP Sister in 2020. The 2010 compilation …Featuring Norah Jones showcased her incredible versatility by collecting her collaborations with artists as diverse as Willie Nelson, Outkast, Herbie Hancock, and Foo Fighters. Since 2018 Jones has been releasing a series of singles including collaborations with artists and friends such as Mavis Staples, Jeff Tweedy, Thomas Bartlett, Tarriona Tank Ball, Rodrigo Amarante, and Brian Blade. The 2019 singles collection Begin Again gathered seven snapshots of creativity from one of the music world's most consistently intriguing artists.
BOOK DETAILS
How to Write One Song will be published on October 13th, and books will begin shipping on that date. The first 700 ticket holders will receive a signed book plate to be shipped separately. This is a US-based event ONLY. Due to complications around shipping during the pandemic, delays can be common, so please allow 3-4 weeks for delivery. If you miss the program, we will offer a replay of this event for ticket holders for 24 hours, starting on Wednesday, October 14th. There will be no refunds for missing the live event or replay window. All tickets include the cost of USPS shipping to domestic addresses only.