Presented by murmrr & Community Bookstore
Ottessa Moshfegh w/ Ariel Levy: LIVE STREAM
$0.00 - $30.00
Tickets At The Door
Murmrr Lit is proud to welcome Ottessa Moshfegh for the virtual launch for her new novel, Death in Her Hands.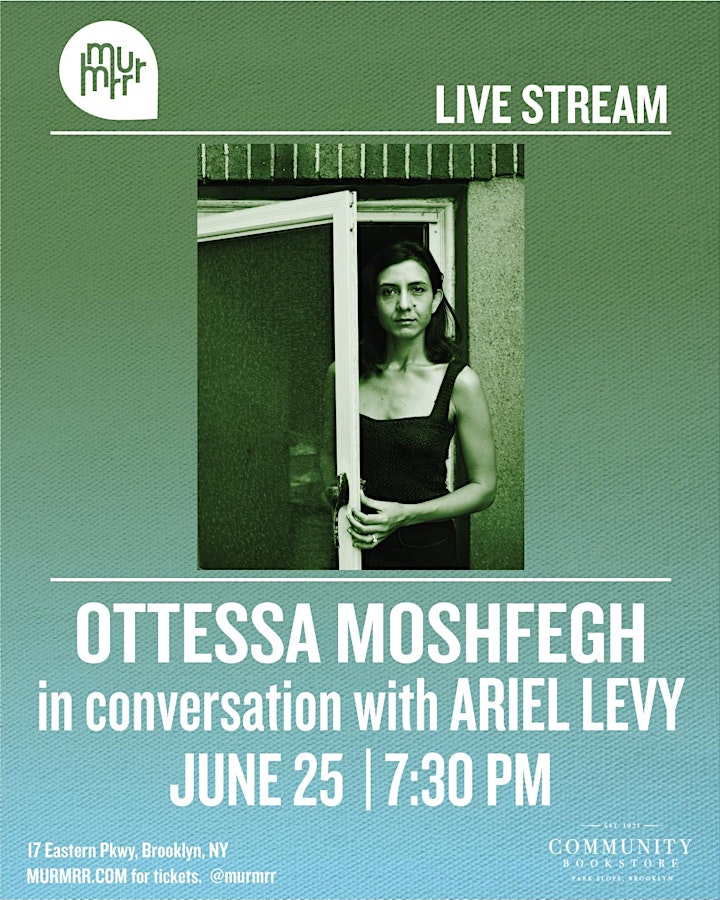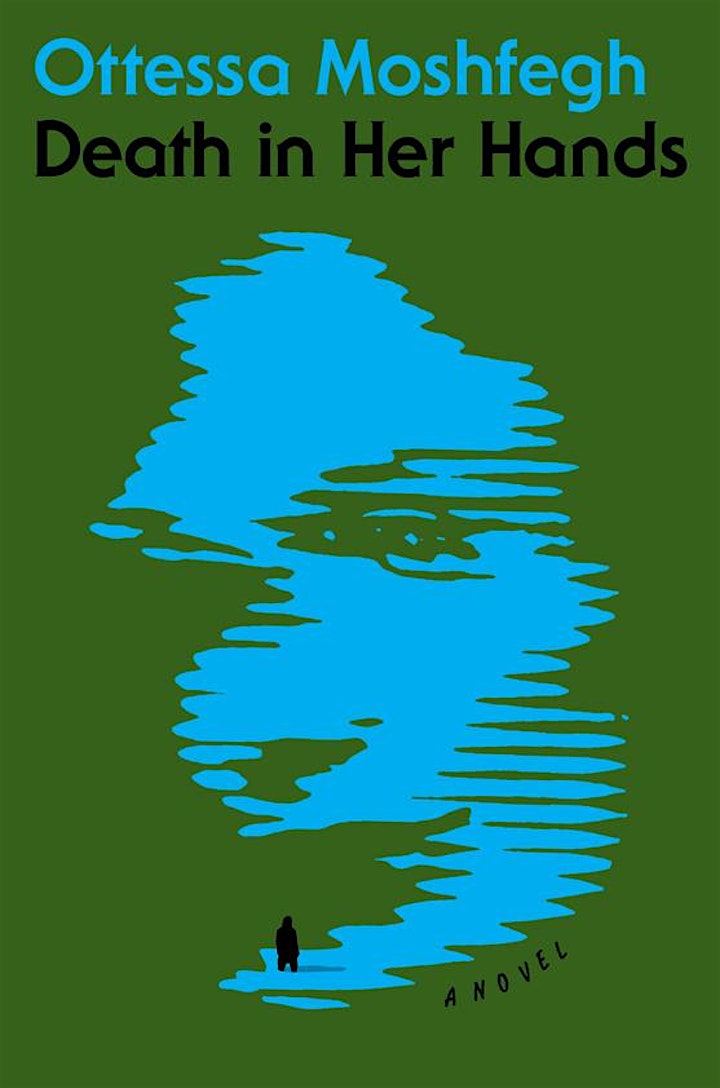 From one of our most ceaselessly provocative literary talents, a novel of haunting metaphysical suspense about an elderly widow whose life is upturned when she finds a cryptic note on a walk in the woods that ultimately makes her question everything about her new home
While on her normal daily walk with her dog in the nearby forest woods, our protagonist comes across a note, handwritten and carefully pinned to the ground with a frame of stones. Her name was Magda. Nobody will ever know who killed her. It wasn't me. Here is her dead body. Our narrator is deeply shaken; she has no idea what to make of this. She is new to this area, having moved here from her longtime home after the death of her husband, and she knows very few people. And she's a little shaky even on her best days. Her brooding about this note quickly grows into a full-blown obsession, and she begins to devote herself to exploring the possibilities of her conjectures about who this woman was and how she met her fate. Her suppositions begin to find echoes in the real world, and with mounting excitement and dread, the fog of mystery starts to form into a concrete and menacing shape. But as we follow her in her investigation, strange dissonances start to accrue, and our faith in her grip on reality weakens, until finally, just as she seems to be facing some of the darkness in her own past with her late husband, we are forced to face the prospect that there is either a more innocent explanation for all this or a much more sinister one—one that strikes closer to home.
A triumphant blend of horror, suspense, and pitch-black comedy, Death in Her Hands asks us to consider how the stories we tell ourselves both guide us closer to the truth and keep us at bay from it. Once again, we are in the hands of a narrator whose unreliability is well earned, only this time the stakes have never been higher.
Bio
Ottessa Moshfegh is the author of My Year of Rest and Relaxation, a New York Times bestseller; Homesick for Another World, a New York Times Book Review notable book of the year; Eileen, which was shortlisted for the National Book Critics Circle Award and the Man Booker Prize, and won the PEN/Hemingway Award for debut fiction; and McGlue, which won the Fence Modern Prize in Prose and the Believer Book Award. Her stories have earned her a Pushcart Prize, an O. Henry Award, the Plimpton Prize, and a grant from the National Endowment for the Arts.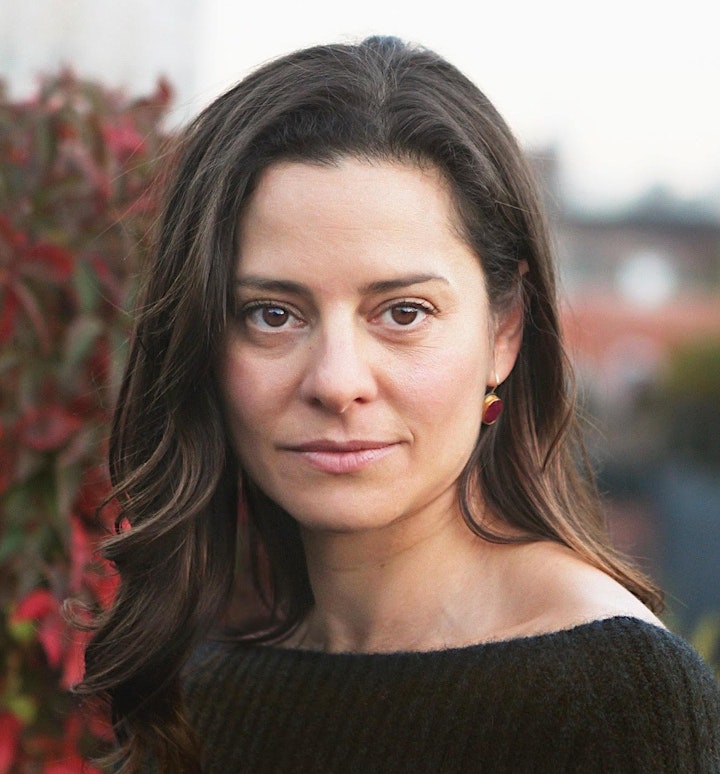 Bio
Ariel Levy is the host of The Other Life, a podcast about transformation. Her bestselling memoir, The Rules do Not Apply, likewise examined loss, change, and the limits of human freedom. Since 2008, Ariel has been a staff writer at The New Yorker magazine, where she has profiled Edith Windsor, the plaintiff in the Supreme Court case that brought down the Defense of Marriage Act, Diana Nyad, who became the first person to swim from Cuba to Florida at the age of sixty-four, and Caster Semenya, the South African runner who forced the athletic world to redefine the category "female." Levy received the National Magazine Award for Essays and Criticism for her piece "Thanksgiving in Mongolia;" her work has appeared in The Best American Essays, The Best American Travel Writing, and in publications around the world.
Due to the limitations imposed by COVID-19, all books will be unsigned, and all shipments placed through Community Bookstore's distributor warehouse. Shipping times have also been dramatically affected, so please allow up to 10-15 business days for delivery. For any issues or questions, feel free to reach out to events@communitybookstore.net.
Due to issues around international shipping during the pandemic, we are not able to ship books outside of the U.S. Apologies, but you may still access the event through the General Admission (pay-what-you-want) option
VENUE ADDRESS:
MURMRR THEATRE
17 EASTERN PKWY
BROOKLYN, NY, 11238
VENUE INFORMATION:
Union Temple, one of Brooklyn's leading Reform Jewish synagogues, has been dedicated to enriching the cultural life of Brooklyn since it opened its doors in 1929. Union Temple is proud to host Murmrr's events as a continuation of this long-standing tradition. Proceeds from these events help support Union Temple's diverse and inclusive religious community.