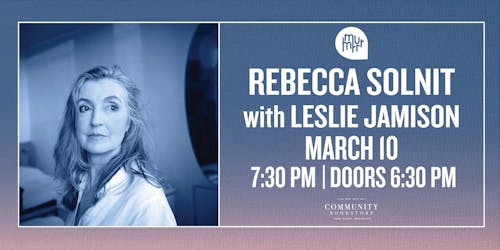 Presented by Murmrr & Community Bookstore
Rebecca Solnit
Leslie Jamison
$35.00
Tickets At The Door
Murmrr Lit is proud to welcome Rebecca Solnit for the launch of her new memoir, Recollections of My Nonexistence, with Leslie Jamison.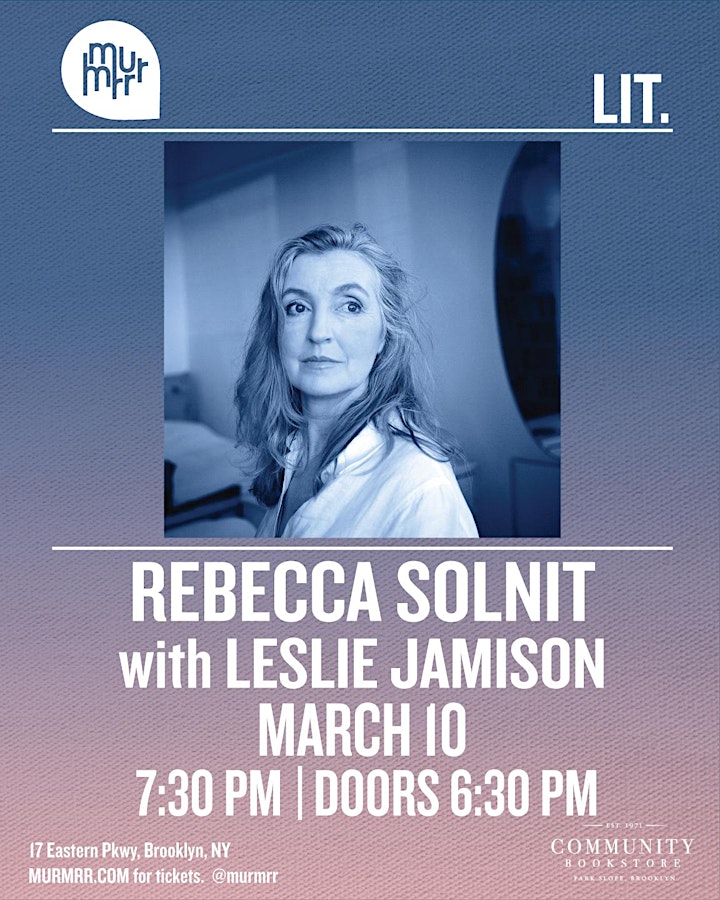 An electric portrait of the artist as a young woman that asks how a writer finds her voice in a society that prefers women to be silent
In Recollections of My Nonexistence, Rebecca Solnit describes her formation as a writer and as a feminist in 1980s San Francisco, in an atmosphere of gender violence on the street and throughout society and the exclusion of women from cultural arenas. She tells of being poor, hopeful, and adrift in the city that became her great teacher; of the small apartment that, when she was nineteen, became the home in which she transformed herself; of how punk rock gave form and voice to her own fury and explosive energy. Solnit recounts how she came to recognize the epidemic of violence against women around her, the street harassment that unsettled her, the trauma that changed her, and the authority figures who routinely disdained and disbelieved girls and women, including her. Looking back, she sees all these as consequences of the voicelessness that was and still is the ordinary condition of women, and how she contended with that while becoming a writer and a public voice for women's rights.
She explores the forces that liberated her as a person and as a writer—books themselves, the gay men around her who offered other visions of what gender, family, and joy could be, and her eventual arrival in the spacious landscapes and overlooked conflicts of the American West. These influences taught her how to write in the way she has ever since, and gave her a voice that has resonated with and empowered many others.
BIOS:
Rebecca Solnit is the author of more than twenty books, including A Field Guide to Getting Lost, The Faraway Nearby, A Paradise Built in Hell, River of Shadows, and Wanderlust: A History of Walking. She is also the author of Men Explain Things to Me and many essays on feminism, activism and social change, hope, and the climate crisis. A product of the California public education system from kindergarten to graduate school, she is a regular contributor to the Guardian and Lit Hub.
Leslie Jamison is the author of the New York Times bestsellers The Recovering and The Empathy Exams, and the novel The Gin Closet. She is a contributing writer for the New York Times Magazine, and her work has appeared in publications including The Atlantic, Harper's, the New York Times Book Review, the Oxford American, and the Virginia Quarterly Review. She directs the graduate nonfiction program at Columbia University and lives in Brooklyn with her family.
Tickets:
(1) General Admission + (1) copy of Recollections of My Nonexistence ($35)