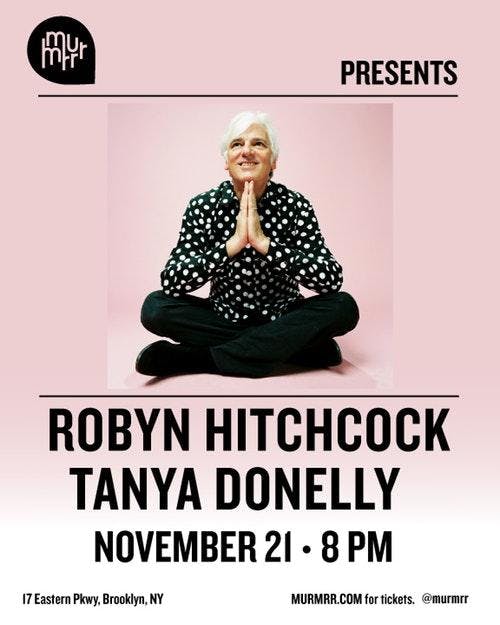 Robyn Hitchcock and Tanya Donelly perform at Murmrr Theatre!
ROBYN HITCHCOCK
English singer-songwriter and guitarist born March 3, 1953 in Paddington, London.
TANYA DONELLY
Born July 14, 1966 in Newport, Rhode Island
Tanya Donelly is a Boston-based singer songwriter and guitarist, and founding member of Throwing Muses and The Breeders. She was also the singer and songwriter in the twice Grammy-nominated band Belly in the early '90s. As a solo artist she has released 5 albums (so far) under her name. Tanya lives with her husband/musical partner), two daughters, an old cat, and a young dog in Massachusetts.
VENUE ADDRESS:
MURMRR THEATRE
17 EASTERN PKWY
BROOKLYN, NY, 11238
VENUE INFORMATION:
Union Temple, one of Brooklyn's leading Reform Jewish synagogues, has been dedicated to enriching the cultural life of Brooklyn since it opened its doors in 1929. Union Temple is proud to host Murmrr's events as a continuation of this long-standing tradition. Proceeds from these events help support Union Temple's diverse and inclusive religious community.