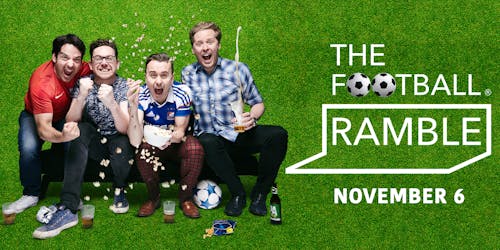 Presented by WestBeth Entertainment
The Football Ramble Live
$30.00
Tickets At The Door
The Football Ramble is going global! Join the gang as they bring their chart-topping podcast to life in a multimedia extravaganza.
Expect all your favorites from the show as they cast an eye over the best - and most ridiculous - moments from the footballing circus. It's a football show, but not as you know it...
Unassumingly created around a kitchen table in England in 2007, The Football Ramble podcast began as a refreshing new voice in football (soccer) and has since achieved award-winning, legendary status. Having established itself as the essential, independent voice of football (soccer) punditry, the podcast is now downloaded over twelve million times a year.
Within two years, the show that began in a kitchen had reached number 1 on the iTunes sports podcast chart, reigning over broadcasts from outlets such as The Guardian and the BBC. The Football Ramble has devout fans around the world; it is syndicated on SiriusXM in the U.S
Transformed into a multimedia extravaganza stage show, The Football Ramble has already performed to sell-out crowds throughout the UK and Ireland.
'The Ramble is the conversation you'd have with your friends about football. If your friends were witty, dysfunctional obsessives' BBC 5Live
'The go-to podcast for the discerning fan' The Times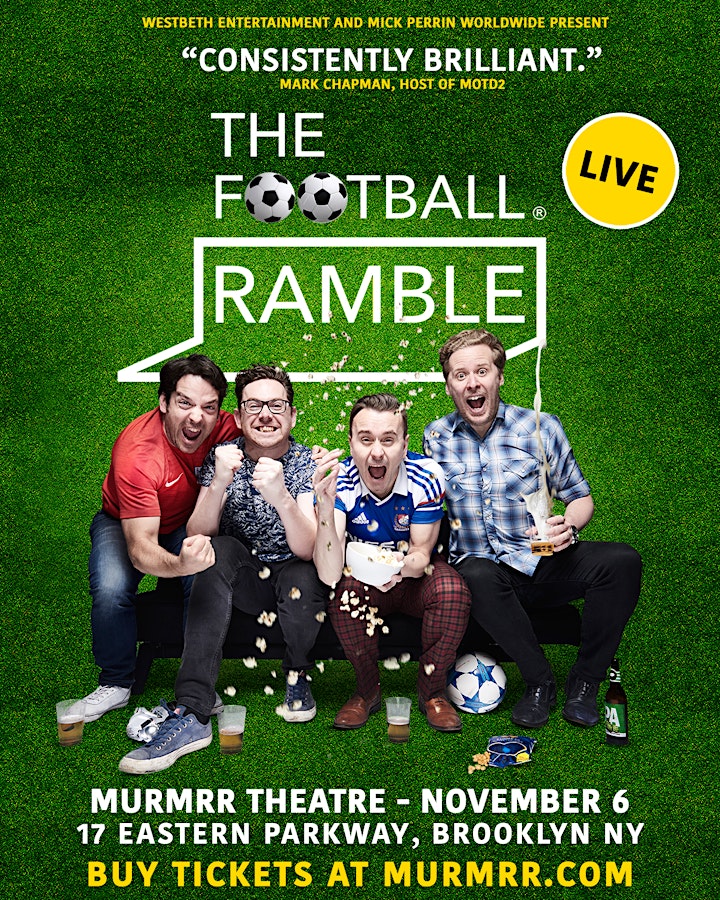 VENUE ADDRESS:
MURMRR THEATRE
17 EASTERN PKWY
BROOKLYN, NY, 11238
VENUE INFORMATION:
Union Temple, one of Brooklyn's leading Reform Jewish synagogues, has been dedicated to enriching the cultural life of Brooklyn since it opened its doors in 1929. Union Temple is proud to host Murmrr's events as a continuation of this long-standing tradition. Proceeds from these events help support Union Temple's diverse and inclusive religious community.